Gold Coast Amateur Brewing Competition
Thank you for your interest in the Gold Coast Amateur Brewing Competition organized by
, Judging held at Black Hops II.
You only need to register your information once and can return to this site to enter more brews or edit the brews you've entered. You can even pay your entry fees online if you wish.
Thanks and Good Luck To All Who Entered the Gold Coast Amateur Brewing Competition!
There are 278 registered entries and 266 registered participants, judges, and stewards.
As of 8:39 PM, ChST, there are 111 received and processed entries (this number will update as entries are picked up from drop-off locations and organized for judging).
Rules
The Gold Coast Amateur Brewing Competition is BJCP sanctioned and open to any amateur homebrewer age 18 or older.
All mailed entries must be received at the mailing location by the shipping deadline - please allow for shipping time.
All entries will be picked up from drop-off locations the day of the drop-off deadline.
All entries must be handcrafted products, containing ingredients available to the general public, and made using private equipment by hobbyist brewers (i.e., no use of commercial facilities or Brew on Premises operations, supplies, etc.).
Bottles will not be returned to entrants.   Entry fee is $5 / entry + PayPal fees.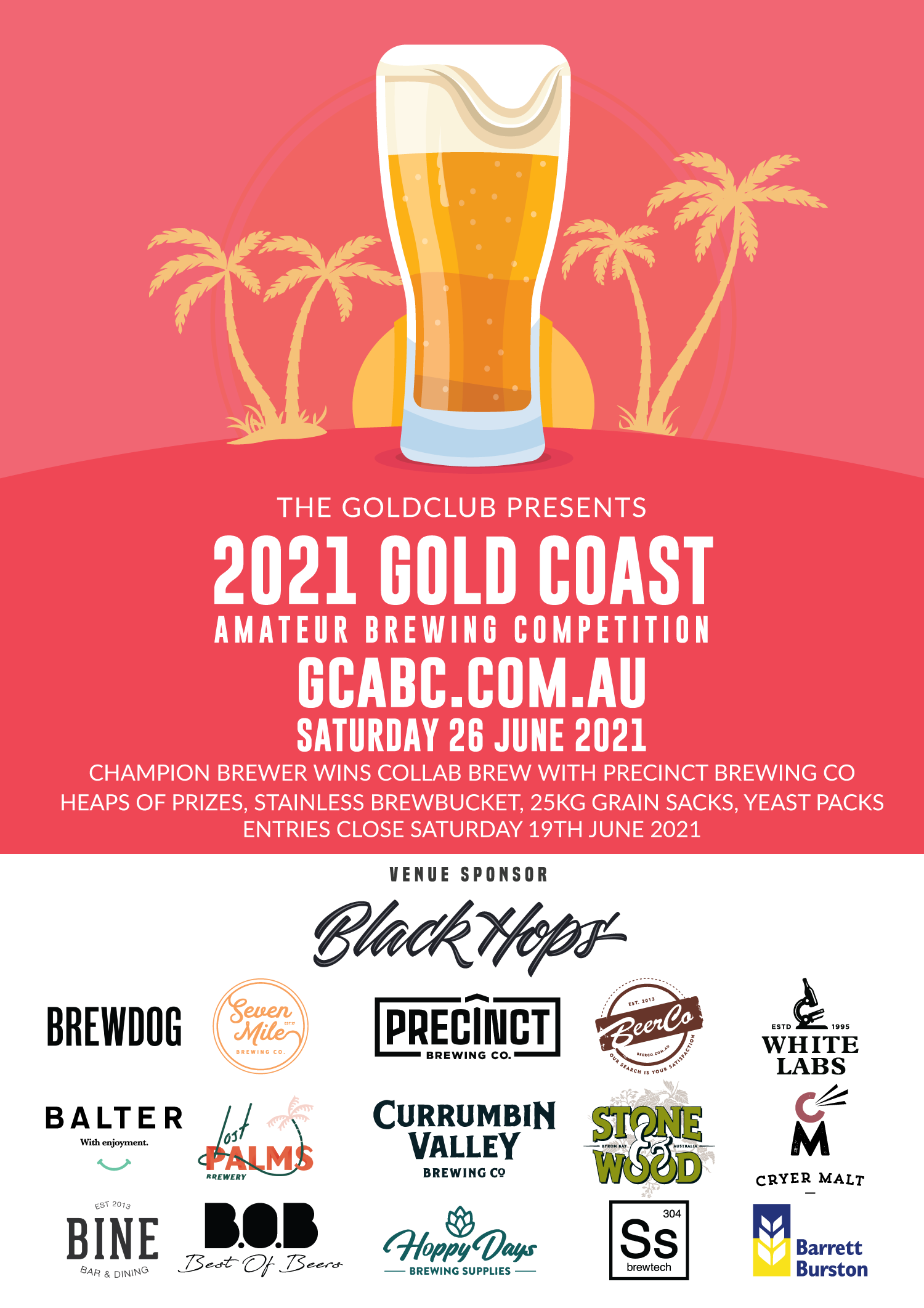 The competition organizers are not responsible for mis-categorized entries, mailed entries that are not received by the entry deadline, or entries that arrived damaged.
The competition organizers reserve the right to combine styles for judging and to restructure awards as needed depending upon the quantity and quality of entries.
Qualified judging of all entries is the primary goal of our event. Judges will evaluate and score each entry. The average of the scores will rank each entry in its category. Each flight will have at least one BJCP judge.
Brewers are not limited to one entry in each category but may only enter each style once.
The competition committee reserves the right to combine categories based on number of entries. All possible effort will be made to combine similar styles. All brews in combined categories will be judged according to the style they were originally entered in.
The Best of Show judging will be determined by a Best of Show panel based on a second judging of the top winners.
2021 Prizes
Champion Brewer - Pro-Am collaboration beer with Precinct Brewing Co (brew your beer commercially with a collab beer), Beer Co. grain pack, liquid yeast plus more.  Champion brewer is the highest average over 3 beers, must enter 3 beers to be eligible.
Champion Beer (Highest Scoring Beer) - SS Brewtech Stainless Brew Bucket from Newera Brewing 
1st Place Category Winner - 25kg sack of grain (sponsored by Cryer Malt and The Gold Club)
2nd Place Category Winner - $25 Hoppy Days Voucher and 1 x White Labs Liquid Yeast 
3rd Place Category Winner - 1 x White Labs Liquid Yeast
About the Competition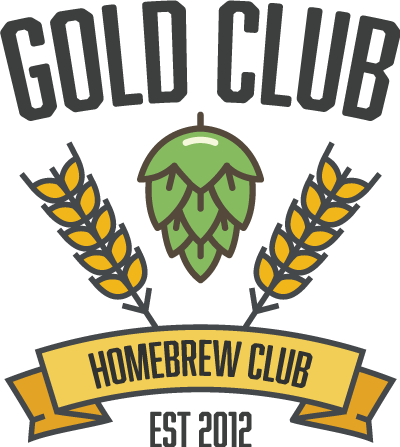 The Gold Club are the proud organisers of the Gold Coast Amateur Brewing Competition (GCABC) which first ran in 2017.  In 2019, the competition received over 220 entries from local and regional home brewers.  The Gold Club is a local group of passionate home brewers (and some professional brewers) that have been meeting since 2012 to share our love of home brewing and quality beer.
The Gold Club meets on the second Firday of every month at Black Hops II to share home brew beers, starting from 6PM.  We also hold several social events, camping trips, and education nights throughout the year.  Please join our Facebook group for further details on our upcoming events.

Please share our 2021 GCABC flyer on social media to spread the word about the competition. Download - GCABC 2021 Flyer
Results and Scoresheets
Competition results and score sheets will be available online at the conclusion of the competition.  Previous year's results are available on the GCABC Results page.  Score sheets are NOT sent to entrants via. postal mail, these are available online only.
Categories
The following categories are eligible for entry as shown within the Judging Styles.  This is a subset of the BJCP 2015 style guideline categories and styles.  Please follow the latest BJCP 2015 guidelines.  A Google Doc of the categories is available at GCABC - docs.google.com
Drop-off Locations
If you wish to ship your entries via. postal mail then please contact the competition organiser. Details for dropping beers off are available within the Drop-off Locations section.  Date and times for drop-off and shipping beers are strict and can not be received before or after the stated times for each location.  Please note that dates and times may vary depending on each location.
FAQ - Common Questions
Reference: http://dev.bjcp.org/newsletter/faqs-1-sour-fruit-beers-specialty-ipas-gruit-and-english-brown/
Q: Should I enter a fruited Berliner Weisse into Wild Specialty Beer or as a Fruit Beer?
A: A fruited Berliner Weisse should be entered as a Fruit Beer because it is a classic style with fruit added. Some brewers and judges have been confused by language in the guidelines, but BJCP President Gordon Strong clarified the intent of the Fruit Beer and American Wild Ale guidelines in a post on the BJCP Members Forum. His post can also be accessed here.
Q: If I add fruit or another special ingredient to an IPA, should I enter it as a Specialty IPA?
A: No. Your entry should go into one of the appropriate specialty beer categories. An IPA with fruit would be a Fruit Beer. An IPA with chilies should be entered as Spice/Herb/Vegetable Beer. Specialty IPA entries should be reserved for widely accepted IPA modifications that usually involve more than just adding one specialty ingredient.
One way to think about this would is to think about what a competition entry write-up for a Grapefruit IPA would look like. It would be something like "American IPA with Grapefruit." That's not a new style, it's a classic style with fruit added, so it should be entered as a Fruit Beer (this is the same logic used for the fruited Berliner Weiss example above). Most of the currently declared Specialty IPAs are style hybrids that generally go beyond taking a classic style IPA and adding a single special ingredient. Rye IPA is an exception, but Rye IPA is a clearly defined Specialty IPA style that is brewed frequently by both commercial and home brewers.
Q: In what category should I enter my super hazy New England IPA?
A: Specialty IPA. Unlike the fruit/spice examples above, the currently popular (and divisive) NE IPA is a unique take on the IPA style that involves much more than adding a single specialty ingredient. The NE IPA is balanced to fruity or tropical aroma and flavor hops with subdued bittering, a cloudy appearance, and a fuller, creamier mouthfeel. A short description should be provided until a standard BJCP style description is prepared.
Q: Where should I enter a Gruit since it is not on the list of Historical Beers?
A: As a Historical Beer. The introduction to the Historical Beer category specifically states that brewers can enter a historical beer that is not on the BJCP-defined list, as long as the entrant provides "a description of the style for the judges in sufficient detail to allow the beer to be judged." In other words, entrants are not limited to the list of Historical Beer styles in the current edition of the guidelines. For something as broad as a gruit, a description of the specific entry is needed more than the general definition of gruit.
Q: Did Northern and Southern English Brown Ales get combined into the same style?
A: No. Northern English Brown Ales are now part of the new British Brown Ale style, which is much broader than the former Northern English Brown Ale. Southern English Brown was moved to the Historical Beer listings and renamed London Brown Ale.
Judging Sessions and Dates
Black Hops II
Saturday 26 June, 2021 9:00 AM, ChST
Competition Official
You can send an email to any of the following individuals via Contact.
Luke Ronalds — Competition Coordinator
Sponsors
Gold Club is proud to have the following sponsors for the Gold Coast Amateur Brewing Competition.